Medford Dental Implant Restorations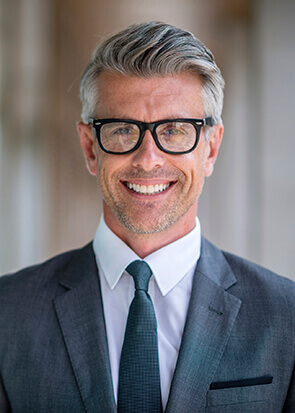 Losing one or more teeth can lead to a variety of consequences for patients including diminished oral health, a loss of self-confidence, and even damaged overall quality of life. At Giamberardino Dental Care, we want you to know that your smile doesn't have to stay like this – in fact, it's possible to regain strong, lifelike teeth that feel just like the real thing! Dental implants make this goal a reality for patients from Winchester, MA and surrounding areas. Contact our Medford office today to schedule a consultation with Dr. Anthony Giamberardino, or if you have any questions for our friendly staff.
So why are dental implants so successful? The answer is simpler than you'd think. Your tooth is composed of two crucial components: the crown (the white portion that makes up your smile) and the root (the portion that's hidden beneath the gum line). Traditional tooth replacement solutions only bother with the crown, which restores the tooth aesthetically. However, without a root in place to stimulate the jawbone, patients can experience oral deterioration leading to higher rates of additional tooth loss and a "hunched" facial appearance over time. Dental implants are the only reconstructive option today that replicates the entire structure of your natural smile providing exceptional health and cosmetic benefits.
Dental Implant Restorations
The first step of the dental implant process is the surgical placement of the implant itself, which functions as the new "root" of the tooth. Dr. Giamberardino will be happy to recommend a trusted specialist in the area to handle this portion of the procedure. Once you've successfully healed, you'll return to our Medford, MA location so we can complete your brand-new implants with strong, quality restorations that beautifully compliment the rest of your smile.
Our recommendation for implant restoration will be affected by the number of implants you've had placed. In cases of single teeth, a dental crown is the best option allowing us to rebuild the lost structure without requiring nearby healthy teeth to be minimized. In cases of multiple teeth, an implant-retained denture can provide wider coverage and reliable support in a cost-effective fashion.
Implant-Retained Dentures
Implant-retained dentures are very similar to a traditional denture or dental bridge in appearance, but they're actually designed to directly attach over a set number of dental implants allowing them to fit into a patient's mouth much more securely. There's no threat of looseness or slipping to worry about!
Dental implants offer countless amazing benefits to patients including revitalized oral health, impressive function, added convenience, and long-lasting quality. If you'd like to learn more, please don't hesitate to contact us!
Understanding the Cost of Dental Implants
Many different factors can affect the cost of rebuilding one or more teeth with dental implants, and no two patients' circumstances are identical. For instance, some may require preparatory services like gum disease treatment before the transformation can begin. The best way to feel confident about the financial aspects of this care is to sit down for a one-on-one consultation with Dr. Giamberardino. He can review your current oral health and reconstructive needs in detail before offering confident recommendations. Better yet, several flexible payment options and discounts are available! We enjoy being able to make this important service as budget-friendly as possible.
Dental Implant FAQ's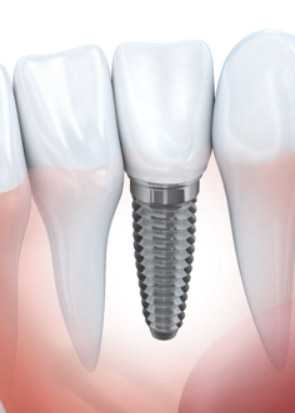 Do you still have questions about dental implants in Medford? We have the answers! Before committing and investing in this treatment process, it's important that you get the information that you need. At Giamberardino Dental Care, we always want to satisfy our patients' curiosity. That's why we've included the answers to some of the most frequently asked questions about dental implants. Keep reading to learn more about this tooth replacement and its procedure.
How Many Dental Implants Will I Need?
The number of dental implants that you need will depend directly on how many teeth you're missing. Typically, you'll need one implant per missing tooth, but sometimes bigger teeth like your back molars may need multiple implants for a proper replacement. The only way to know for sure is to schedule a consultation, where Dr. Giamberardino will carefully examine your mouth to determine how many implants you need.
This number can also depend on the condition of your oral health and the strength of your jawbone. Sometimes, those with a weaker jawbone may not be able to handle as many dental implants as those without. When you lose teeth, your bone loses stimulation that it needs to thrive, which causes bone deterioration.
How Long Do Dental Implants Last?
Possibly the biggest benefit that dental implants have to offer is their longevity. Dental implants can last for a lifetime with proper care, making them well worth the investment. That's because they are made out of high-quality titanium and rooted in the jawbone to create a long-lasting and sturdy support for dental restorations. How long your restoration lasts will depend on the type that you require and how well you practice your oral healthcare routine.
Does it Hurt to Receive Dental Implants?
No, not like you may think! Many patients learn about the surgical process of receiving dental implants and automatically assume that it's a painful procedure. However, patients that have received dental implants say that the discomfort that they experienced can be related to a simple tooth extraction. In reality, a trusted surgeon will ensure that you're numb and comfortable before beginning the procedure. Additionally, your jawbone doesn't have pain-sensing nerves that could make the process much more painful. Most patients will report that they feel discomfort during the first few days of recovery, but this soreness will eventually dissipate.
How Long Does the Dental Implant Process Take?
After your implant surgery, it's important to allow at least 3 to 4 months for your dental implants to integrate into your jawbone. While this sounds like a long time, it's precisely what makes implants a strong and healthy replacement. During this period, you'll wear a temporary restoration until it's time to come into our office for your permanent one. While this treatment does take months, the comfort, function, beauty, and health benefits are worth it.