Protect Your Teeth with Medford, MA Preventive Dentistry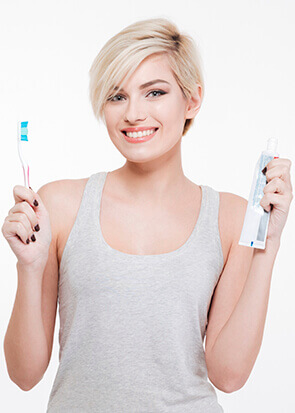 Being able to enjoy a lifelong, healthy smile is within every patient's reach – it just takes the right combination of diligent homecare and professional assistance to achieve. Dr. Anthony Giamberardino is happy to offer routine check-ups, cleanings, and several other preventive services designed to catch potential dental problems early on and provide valuable protection. With over 30 years of experience and a great, experienced staff backing him up, you're sure to have plenty of reasons to smile by the time your visits are over. Contact Giamberardino Dental Care today to schedule your first appointment! Our office is located in Medford, MA, and we're happy to serve the surrounding areas of Stoneham, MA and beyond.
Checkups & Cleanings
One of the most important steps patients of all ages take towards lifelong oral health is attending routine checkups and cleanings twice a year. These visits allow our dental team to fully understand your smile and any potential problems at the earliest stages making treatment simple and keeping damage minimal.
Digital X-Rays
Digital X-rays are a big improvement over traditional radiography, and that's why we're proud to offer this technology to patients at our modern facility. Instead of having to spend hours waiting for pictures to develop in darkrooms, detailed images of your smile are available in seconds, and these images are easy to transfer and modify. No hazardous chemicals are used, and the amount of radiation patients are exposed to is significantly reduced as well for a safer experience overall.
Periodontal Treatment
Periodontal disease is one of the most common health conditions on the planet – in fact, nearly 80% of American adults suffer from a mild to severe version of it. At Giamberardino Dental Care, we take this threat very seriously, which is why screenings are a vital part of every regular checkup patients undergo. If we determine periodontal disease is present, our recommendations for treatment will depend on your unique case. Mild symptoms can typically be treated with a stronger oral hygiene routine at home, while patients with more severe damage may need root scaling and planing (an in-depth procedure that cleans away bacteria from below the gum line) and antibiotic therapy.
Learn more About Periodontal Treatment
Oral Cancer Screenings
Do you know that oral cancer kills one person every hour on average? This disease can be treated successfully in early stages, but most patients miss this window because their symptoms are misdiagnosed or undiagnosed resulting in traumatic consequences. Dr. Giamberardino will provide an oral cancer screening as part of your regular evaluations and alert you if he discovers any signs of cancerous (or precancerous) cells. Common symptoms of oral cancer include the following:
Red or white patches in the mouth.
Oral sores that heal slowly and/or bleed easily.
Lumps, crusted areas, or thickened areas in the mouth.
Pain and/or numbness in the tongue.
The constant feeling of something stuck in the throat.
Constant difficulty with chewing and/or swallowing.
Nightguards for TMJ/Bruxism Therapy
Jaw pain can be a menace, no matter what form it takes. Many patients struggle with bruxism, which is more commonly known as teeth grinding/clenching. This condition typically occurs while the patients sleep at night, and serious headaches and oral damage can occur as a result. It may even lead to the development of TMJ disorder, a debilitating condition that's caused by strained jaw joints. If you're experiencing discomfort that's related to these conditions, Dr. Giamberardino may be able to provide relief with a customized nightguard. These devices are designed to "guard" teeth and minimize any disruptive grinding that occurs allowing for more comfortable, restful sleep.
Dental Sealants
Dental sealants can be a big help for younger patients who are learning how to brush and floss their teeth, as well as adults who are especially sensitive to tooth decay. This tough plastic material is painted over the deep chewing grooves of back teeth, effectively "sealing" these areas from the food and bacteria that tend to accumulate there. This reduces the risk of future cavities and allows patients to keep their smiles clean more effectively.
Athletic Sportsguards
If you or a loved one participates in an athletic event that could involve physical contact with other objects or people, please talk to our Medford dental team about a customized sportsguard. Unlike the uncomfortable, one-size-fits-all options you can find at any store, our customized appliances provide the perfect fit that's convenient and effective. Patients will still be able to speak and move their jaw as needed while their smile is well-protected throughout the game.